𝘏𝘢𝘷𝘦 𝘣𝘦𝘦𝘯 𝘱𝘭𝘢𝘯𝘯𝘪𝘯𝘨 𝘰𝘯 𝘣𝘶𝘺𝘪𝘯𝘨 𝘧𝘰𝘳 𝘮𝘰𝘯𝘵𝘩𝘴 𝘢𝘯𝘥 𝘧𝘪𝘯𝘢𝘭𝘭𝘺 𝘥𝘪𝘥 𝘪𝘵. 𝘊𝘰𝘶𝘭𝘥𝘯'𝘵 𝘣𝘦 𝘩𝘢𝘱𝘱𝘪𝘦𝘳! 𝘓𝘰𝘷𝘦𝘭𝘺 𝘲𝘶𝘢𝘭𝘪𝘵𝘺, 𝘭𝘰𝘷𝘦𝘭𝘺 𝘤𝘰𝘭𝘰𝘶𝘳 𝘢𝘯𝘥 𝘭𝘰𝘰𝘬𝘴 𝘴𝘰 𝘤𝘩𝘪𝘤. 𝘔𝘦𝘭𝘢𝘯𝘪𝘦 𝘈. 𝘜𝘚𝘈
Regular price
$99.90
Sale price
$34.90
Unit price
per
Sale
Sold out
✔️ Handmade With Soft Cotton
✔️ Lightweight & Non-Stretch
✔️ Built-In Snuggly Pockets
                  30-day money-back guarantee
               Feel like yourself again
This California Romper is a stylish and comfortable piece of clothing perfect for any occasion. Crafted with a soft blend of cotton and spandex, allowing for maximum breathability and stretch. Its relaxed fit provide the perfect fit for any body type. Get ready for summer in this comfortable and fashionable piece.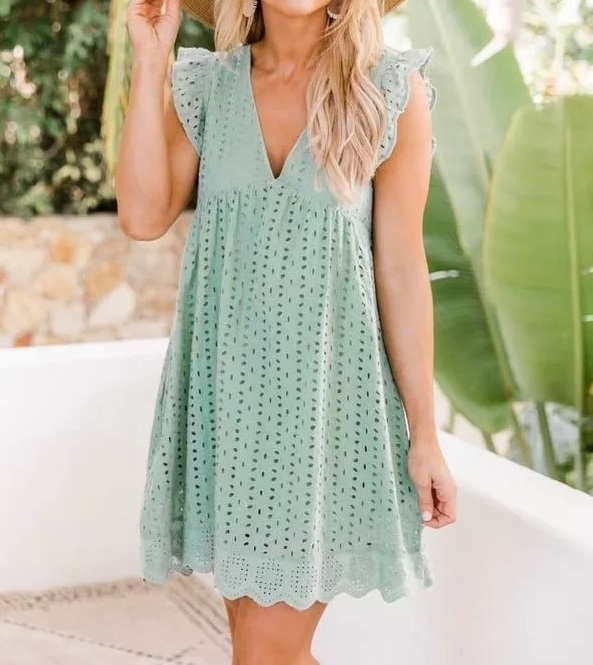 ✔️ Fabric Has No Stretch & Lightweight Feel
✔️ V-Neckline With Ruffled Sleeves & Eyelet Hem
✔️ Pair This Romper With Booties & A Fedora
✔️ Shorts Lining With Skirt Outlay
✔️ Size Small From Shoulder To Hem: 34 Inches
Tip: It is recommended to choose a Romper one size larger 

View full details
24,500+ happy customers
We've had the pleasure to improve the lives of over 24,000 people and we're extremely grateful for everyone's support.
FAQs
Q: What is the best way to clean this dress? Dry clean, machine wash, hand wash?

A: I would machine wash and then air dry if you can. If dry cleaning is an option that works too!
Q: What material is used for the dress?

A: Material: cotton blend
Q: Could this be worn during maternity? 5'7 at 6mths pregnant?

A: Yes, but it might be a little short.
Q: I am 5'10" and wear a size 6 but with a 36 DD chest, what size?

A: For your chest size I would get a large.
Q: Does this dress have a zipper or something?

A: The romper have zippers.